Sensi™ Wi-Fi Thermostat
Wi-Fi Thermostat- remote access from smartphone, tablet or PC
---
Sensi App connects thermostat to home Wi-Fi router no additional accessories/gateway required
Sensi™ Wi-Fi Thermostat
Easy to install. Simple to connect
No "C wire" required for most HVAC applications- for faster and easier installs
Universal design works virtually with any system
Sensi Thermostat operates like a standard thermostat when not connected to Wi-Fi.
Three year limited warranty
Homeowner Benefits
Avoid wasteful heating and cooling when you're not at home, and save up to 33% on energy costs.
The intuitive Sensi App makes thermostat installation, programming and operation simple and fast.
Adjust the temperature with just a touch, from anywhere, when Sensi is connected to the home Wi-Fi router- control is always at hand.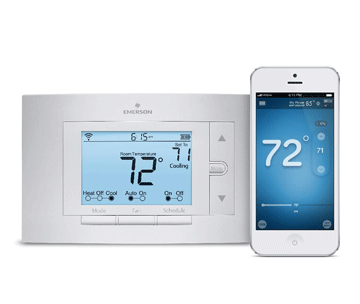 Sensi Thermostat Highlights
Works on heating and cooling systems- no "C wire" required in most applications.
Universal design- works with virtually any system type.
One smartphone/tablet can control multiple thermostats
Multiple smartphones/tablets can control one thermostat
Automatic Daylight Savings adjustment
Sensi thermostat will operate the HVAC system and settings even if the Wi-Fi is disconnected
Operates on 2 "AA" alkaline batteries
Sensi App On-Screen Display Includes:
Current room temperature
Current room humidity*
Local weather and conditions
System mode
System status ( heating, cooling or standby)
The current day's schedule
Next program schedule change
Location and name of the thermostats
*Sensi thermostat does not control humidity
Thermostat Display
Large, easy-to-read character size
Optional continuous display light (with "C wire")
Comfort and Convenience
Auto heat/cool changeover option- automatically switches between heating and cooling programs
Maintains room temperature to within +/- 1​°F
Room temperature display can be recalibrated up to +/- 5°
Permanent program retention during power loss.
Energy Performance
Energy Aware qualified
Energy savings up to 33% using convenient heating and cooling program schedule